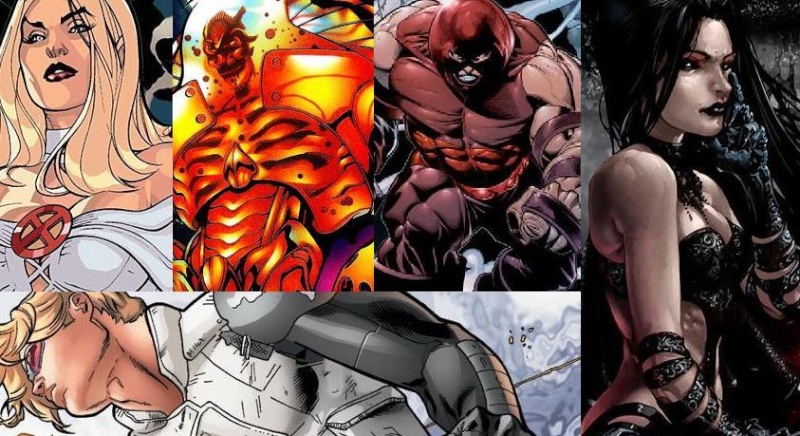 "It's already a war out there" Emma said as she was using little concentration to protect her two team-mates minds. She also noticed how there was a team of five headed right towards her team to intercept them. And one of them, Sunfire was already ahead of the other four. "Selene, I need you to skip right past the team ahead of you an into the basement. Currently there are two people in the basement and from here on out you'll be on your own. Report back only once the bomb has gone off." Selene acknowledged Emma and was happy she was finally going to be able to do whatever she wanted to without having Emma mother her. Moving as her high speed, Selene simply by past the team from the side towards their base.
"You made a mistake sending them for me, Xavier" Emma said with a smile. Sam, Holocaust and Juggernaut spotted the five-man team as they entered the market place. Sam was about to fly straight into Sunfire but Emma told him otherwise. Going into Sunfire's head, Emma took complete control over him. Now the only thing on his mind, well in his mind was Frost. "Holocaust, shoot Sunfire" Emma ordered him to do. Holocaust laughed as he said, "we don't need this puny mutant for help." But an order was an order and hit shot a massive beam right at Sunfire.
Emma made Sunfire absorb the entire beam as he turned to look right at his team. Pointing both his hands towards the other four he would shoot two massive plasma beams to incinerate them. At that exact moment Emma also tapped into the mind of Polaris and erased her memory from what happened in the past five minutes. Therefore she would be dumbfounded for a brief moment preventing her from using her barrier to block the plasma beams. While Sunfire continued to blast his own teammates, Juggernaut ran right into the fire, not being affected by it, and smashed right into Colossus knocking him into a few stands of the market. Then turning around and grabbing Legion by the face, he would put both his hands around his head and begin crushing it.
Everyone instantly knew Emma Frost had taken over Sunfire when he stopped flying, and turned to face them after being engulfed by Holocaust's blast. "Watch out! Emma's got him!" Havok roared but before Emma would have the chance to attack Polaris and make Sunfire attack his own teammates, she would feel a powerful bolt of pain directly to her brain. Paralyzing her both mentaly and physically for a couple of minutes, she would lose control over Sunfire. "I delt with it." Legion or rather Jemail Karami said.
"Where is she?" asked their leader as Legion pointed to building #7 "There, I have momentarily paralyzed her. Maybe a couple of minutes." As Legion turned to face Holocaust who was standing not too far from him, Havok grinned as he turned his body to face building #7. The circle on his chest started to light up as he said "Thats more than I'll need." A massive heated plasma blast errupted from his chest. It flew through the air with such power the the air around them trembled and vibrated under its pressure. His blast would smash right into building 7. A massive explossion would errupt, leveling the whole structure and killing Emma who would be hit by Havoks blast and crushed by the remains of the building.
Tapping into the mind of Apocalyps's oversized servant. Holocaust would then jump onto Juggernauts back and began absorbing the life force out of him. Having regained control of his conciouns, Sunfire would instantly turn around and shoot both massive waves of fire strait into Juugernaut. Engulfing him in the scortching flames, the heat would have absolutly no affect on his skin. But Sunfire didnt shoot him to burn him, but to give him nuclear radiation. Both Sunfure and Holocaust's attacks were nuclear radiated and thanks to the amplified strength Holocaust gave Sunfire, the radiation was doubled. Colossus stood several feet infront of Juggernaut who had been attacked by both his teammates and Sunfire, waiting to see if he would emerge from the ocean of flames.
Still hovering in the air, Polaris would turn her attention over to Cannonball who was soaring through the sky. Forming a protective barrier around her incase anyone tried attacking her while she wasnt looking, she would lift up her right arm pointing it strait towards Cannonbal. Suddenly Cannon ball would feel an increase in presssure around him, feeling as if the air was being compacted against his back. Growing heavier and heavier, it would eventualy become so heavy that as he flew forward he would begin to decend. Unable to control the constant decending, Polaris had increased the gravity around him so much that he wouldnt be able to stay in the air. Forcing him to crash land on the ground. Even once he crash landed, Polaris would continue increase the gravity around him untill he was flattened into a pancake.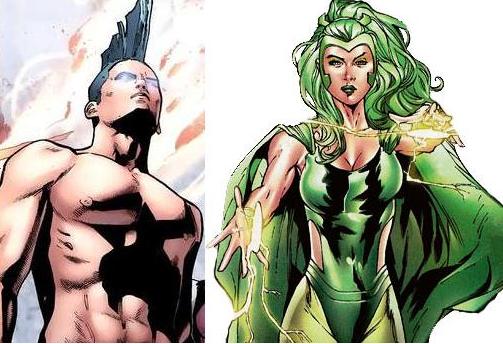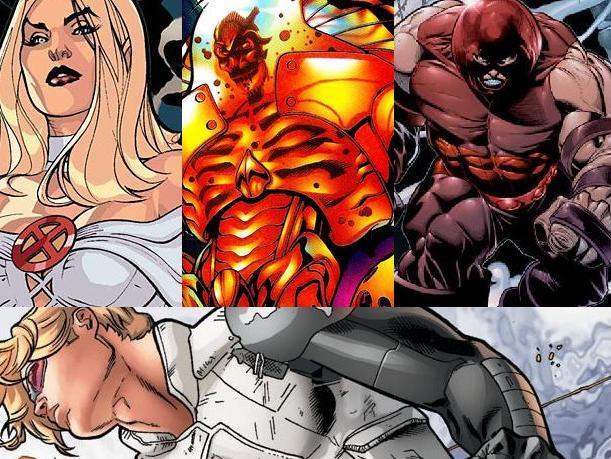 Legions attempt at paralyzing Emma via telepathy was futile. As he tried getting into her head, the only thing he would see was a wall of diamond. She second she noticed Legion change into a telepath she knew and protected herself from telepathic attacks knowing she was going to be the target. Therefore Sunfire was still under her control and still burning his own teammates as well as giving them radiation, Polaris still had no clue where she was and what she was doing in the low market, Colossus was still hit away from the group and Legion would be inside the enormous hands of Juggernaut with his head being crushed. Because he had gone into his telepathy mind there was nothing he was going to do to stop his head from being crushed. Juggernaut did not care about the fact he was inside Sunfire's fire being it was not having much of an effect on him.
Now that the team was being burnt alive, except for Colossus, no one could stop Juggernaut because if she didn't try protecting themselves they would die. In seconds Legion's head had been flattened and was no longer alive. With one roar, Juggernaut launched the corpse out of the fire and towards Colossus to distract him. Next was Polaris. Swinging his fist downwards onto the head of the burning mutant Juggernaut punched her straight into the ground. Then with a furry of blows he just started pummeling her into the ground creating a mini crater with her in the middle, or whatever you could make out from her mangled body as he continued punching her to nothingness.
Meanwhile, whatever Colossus did with the corpse that was thrown at him wouldn't matter because Cannonball swooped down from the air behind Colossus and smashed into him with what would have been boon crushing force, but his skin was metallic. But Cannonball did not stop moving, he continued flying forward in the direction of Holocaust. Cannonball flew up into the air but shot Colossus towards Holocaust as Holocaust punched Colossus into the ground in front of him. With all his force he step down onto his chest pinning him to the ground as he pointed his cannon right at Colossus's face. An orange aura began coming from Colossus as he began sucking the life force out of him, just the fact he was near Holocaust meant he could suck the life force out of him. "Make a move and I blast you, so either way it doesn't end well for you" Holocaust said while smiling behind his helmet.
Havok watched as Sunfire turned around and none of his teammates did anything to stop the flaming mutant. His arms up and ready to incinerate his teammates, their leader swiftly shot a heated blast of energy that would tear through his fire and collide right into him moving at an insane speed. Knocking him out of the airm Havok would turn his attention else where.
Emma probably sensed that Legion had walked into the battle field as a telepath therefore protected her mind against him. As his mind was clouded with some form a diomand, the next thing he knew was the barging Juggernaut was headed strait for him. By the time his mind was cleared from the diomonds the mass of muscles that was a mutant had already reached him and grasped his head. Begining to crush it Legion would yell out then said "What the hell am I doing here?" Suddenly a massive force stronger than that of Juggernauts arms would push out wards releasing his arms from his head.
What Juggernaut didnt know was that Legions mind changes randomly at any time and any given moment with his doing. Not Legion turned into Jack Wayne, his telekinetic personality. At the same time, Legion would put his two arms up blowing Juggernaut into Halaucaust and bring down the entire building around Emma. The whole building would be compacted into a square the size of an x boc completelty crushing any and everything inside.
By now, Polaris and Sunfire would regain their mind and were back into the battle. Telekineticly controling both Jugs and Apocolaypses but buddy, Legion would lift them up into the air. "Polaris deal with Sam before he becomes a problem." Havok said at the same time as Legion asked "What do I do with these two?" Controlling them so that they were unable to move Havok answered "Get rid of them." "Sure thing boss man." Legion said as he began closing his fist, begining to crush both of them like a panini maker.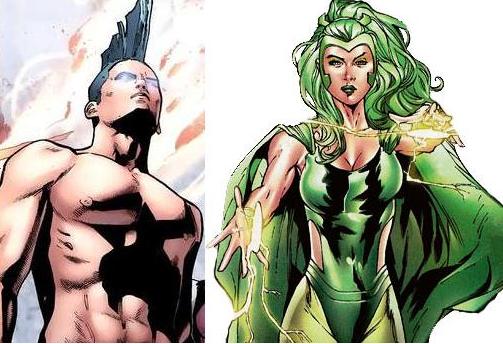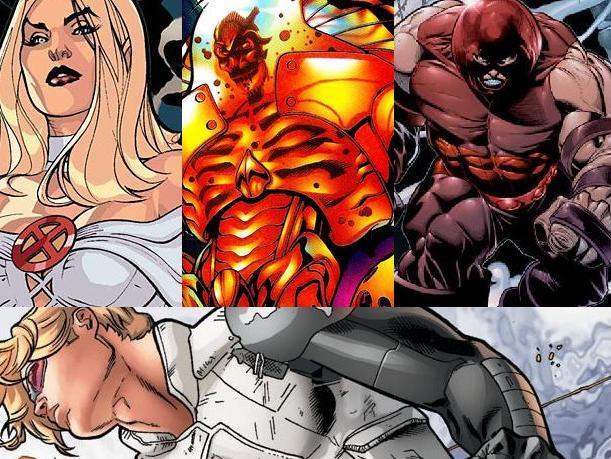 "It's time to stop playing" Emma said to herself as she simply made Sunfire evade the blast shot by Havoc. Emma exited the minds of both Holocaust and Sam so she could better concentrate on what she was about to do. She noticed that Havoc's mind had been taken over by some other mutant so she wouldn't have to worry about him for now. Entering the minds of Colossus, Legion and Polaris now, Frost shot a blast of psionic energy into the four mutants minds instantly making them "brain dead" as she shut all of their minds off, causing every system in their body to shut down. But it wouldn't last long on Legion for his minds could switch, but Juggernaut had control of himself once more and with one clap he crushed Legion's head into a pancake.
While Havoc had his back towards the team shooting a beam at his own base, Holocaust had walked up right behind him. Smashing his cannon right into his back smashing Havoc into the ground, Holocaust would step onto his back with bone crushing force pinning him there as he began absorbing the life force right out of him. Pointing his cannon at the back of his head he'd say "try blasting me and I'll blow your head to oblivion." If Holocaust spotted the slightest flash of Havoc's beams, he'd shot a blast strong enough to blow his head up but not affect himself. Otherwise, he'd just absorb his life force until he died. Meanwhile, Frost walked out sweating a bit as she had already re-entered the minds of Sam and Holocaust. "finish him of quickly and lets continue our mission" Emma concluded. Once Havoc was done with, they would continue their way towards the base from the right side (map view) hoping Selene survived the blast from Havoc.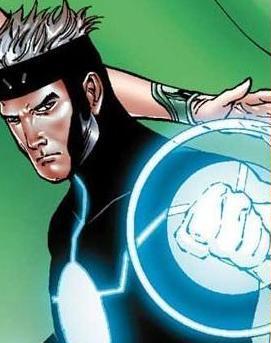 Havok regained his own mind to see that someone had made him blow up his own base. He simply staired, dumbfounded at the destruction that was once his base. Not paying attention to his enemies all Havok could think about was his teammates. Suddenly a heavy object smashed into him from behind knocking him to the ground. Havok did nothing to try and stop that attack or protect himself. He simply fell to the ground and let Holocaust step over him. "
What have I done
?" He though to himself as he turned his head around and caught site of his dead teammates. Sunfire, Colossus, Legion and.... Polaris. He felt the life being pried away from him as he looked at his dead girlfriend. As his vision slowly grew darker and darker he kept his gaze fixed on Polaris when he suddenly herd Emmas voice in the background. "
Forgive me
." He though to himself as the unexpected happened. Havok released every ounce of energy left in his body, not chaneling it through his suit, but letting it come out naturaly in every direction like a bomb. Even if Holocaust somehow saw this coming and shot Havok in the head, it would have done nothing because Havok uncounciously absorbs every form of heat and energy around him thus rendering his blast usless(if he shot it) Emma would be unable to predict what he was doing because she was not link to his mind. Seeing as they were both standing right beside Havok the inevitability of them getting hit was on Havok's side. Every spec of energy in the mutants body would errupt outwards engulfing Holocaust, Emma, Jugs and if Sam was near by him as well. The blast was so powerful everything in its wake would instantly disintegrate like the bomb tropped during Terminator's judment day. Down to the bone, Emma's team would turn into tiny specs of charcle. If Jugs survived this nuclear blast, he would still feel some pain do to the shear force of the oversized blast. Once the blue and white semidome explossion vanished with the wind, all that was left was a giant crator and quite possible Jugs lying in the hole with Havok's corps at the center of the crator.
---
Permissions in this forum:
You
cannot
reply to topics in this forum