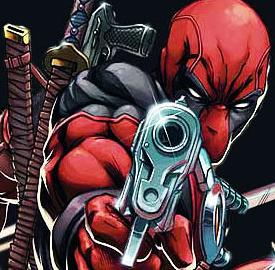 "There's the hill Wolverine was talking about!" Deadpool shouted as he ran up to the base of the cliff. He looked up the very steep 'hill' and could see a red cement barrier, and then a mansion. "So that must be the enemy base then, eh...? Guess I'm too low to see the flag on the roof." Wade muttered to himself as he put his hands on his hips. "Ok now wait... I had to be on the right side, right?" he asked himself as he walked over to a large rock and sat down on it. Pulling out his small map, he unfolded it on his lap and then scratched his head. "So does that mean our right from the position we started? Or does it mean the right side of the building, because those are 2 completely different 'rights', right? Logan should have been a little more clear on which 'right' he was talking about... Whatever, I'll just come in from behind, that's my best bet. Gee, sure is taking them a long time." Deadpool said as he folded the map and looked back up at the mansion that seemed to be pretty peaceful.
The three mutants would explode into sight with blue and black mist floating around them. Keeping in contact with Nightcralwer and all times, Psylocke concentrated on both Kitty's and Kurt's mind hiding them from any near by telepaths. Not hiding behind the cover of building #8, Psylocke led her Nightcralwer to both the left extremity of the wall and pointed with her free hand towards building #9. Having already planned out her route from the map of the area "Thats the building I need you to teleport us too, incase any enemies come down the trail ahead."
Kurt simply nodded and Psylocke led her two team mates the the right extremity of the back wall of building 8. Before she made it to the corner of the wall, Emma frost and the rest of her team entered the perimeter of her mind. Sensing them as they travled down the main path, Psylocke swiftly contected Xavier. "
Charles, heading your way is Emma Frost Holocaust, Scelene Cannonball and Jug....
"
Before the telepath finished her sentence with their head master, she felt Cannonballs presence swiftly aproaching. "Kurt now!" With that the three of them vanished from behind building #8 and reformed behind building #9. Now out of the way of the enemy, the three of them knelt down behind the building "I could have sworn and I sensed Wade, but hes on the other team. Whats he doing by himself so close to Magneto's team?"
Getting back to the mission at hand Psylocke would say "You two, keep your eyes at our six while I scan the base for Beast's location." Closing her eyes as a purple aura of a butterfly formed around her head. Extending the reaches of her mind to the furtherst they could go, she first came into contact with Storms mind. Reading her mind gathering every peice of info she knew, Psylocke would move on to the church.
Locating Beast, the butterfly vanished and she opened her eyes. Still holding Nightcralwers three fingered hand she began. "In the center of their base, Storm and Magneto air in the air so they'll see anyone who approaches." Opening up a map that she pulled out from her back pocket with her free hand, she would use her telekinetic powers to roll it open before them. "Right here, building 10, the church is where Beast is located. But he is heavily guarded by Cyclops, Shaw, Mercury, Loa and Hope. And because we dont have a detailed blue print Kurt wont be able to teleport us in."
"I could get us in, just tell me where he is and guide me Telepathicly." Psylocke slowly noded to herself as she poundered her options, telekineticly putting the map back into her pocket. "Alright, get ready."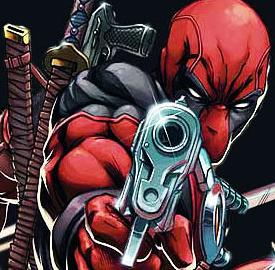 "I want my head in the sky, so high that I can't come down. Leave your lies in every town across the nation, cause you never stop to play. Gotta rise up! To the top, to the top! Can't stop - how high can you get!? Gotta rise up! To the top, to the top! Can't stop - how high can you get!?" Deadpool sang to himself as he climbed up the side of the cliff, using 2 throwing daggers for help. He grunted as pulled himself over the edge and finally got his feet on grass again. After putting the daggers back into their holster, Deadpool stood up and looked at the dark, angry sky. "Hmm, that's funny... it wasn't raining a second ago..." he said to himself. "Well, I don't want to catch a cold, I better get to some shelter." Pulling out a grappling hook from his belt pouches, Wade swung it around a bit and then tossed it over the wooden wall.

"Heheh, I feel like I'm back at my ol' military training camp. Good times." he said to himself as he climbed up the rope. Reaching the top of the barrier, he swung his legs over and sat there for a moment. "Humpty Dumpty sat on a wall, Humpty Dumpty had a great fall. All the king's horses and all the king's men couldn't put Humpty together again. Uh oh." Wade said as he took noticed of 2 figures in the sky. He couldn't make out 1, but the other was clearly none other than Magneto. "Yeah, now would be a good time to get that shelter I was talking about." Deadpool said as he jumped down on the grass of the mansion's backyard and ran to the door. Once there, he pulled it open, slipped into the house, and slammed it shut behind him.

Panting, he muttered to himself, "Oh God... I hope... they didn't... see me..." After having caught his breath, Deadpool pulled out 1 of his MAC-11's and cocked it. He silently walked around each room of the first floor, moving like a ninja to make sure they were clear. Once he cleared the 1st floor, he walked up to the 2nd and did the same. "That's strange, no one's here. Did the others get lost or something?" he wondered as he walked into a room and crouched by the window. Hiding, Wade looked at Storm and Magneto who were just hovering in the sky. "I'm going to need a diversion so I can get the flag..." he muttered as he put his hand to his chin and began thinking up plans.
---
Permissions in this forum:
You
cannot
reply to topics in this forum