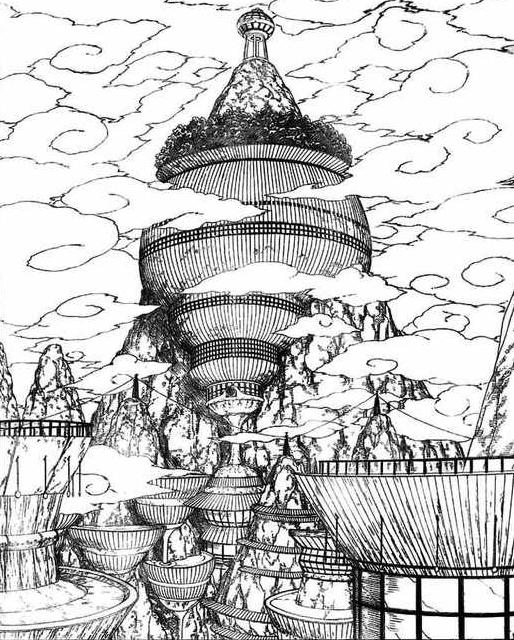 "We have visitors!" Inori exclaimed, her voice high pitched with excitement. Seated in the Raikage's throne, Hinode looked over to the estatic, hooded girl.
"Intruders...? It took them this long to act... pitiful. How many of them, Inori?" The cat-girl's two red eyes closed as she began focusing.
"Aww... only 8. Can I go greet them!?" she asked the silver haired leader. He got up from his seat and walked over to the large window so he could look out upon the village, as if he could see the invaders.
"No... you need to stay here and keep concentrating on the barrier, in case any more arrive. Also, I want you to keep tabs on their chakra signatures. I can't believe those fools didn't even bother to hide their chakras... Or maybe they just possess a lack of training. Either way, this is an insult to us. Taka." The moment he finished uttering that final word, a female figure landed into a crouched position behind him.
"Yes, Hinode-sama?" she asked, keeping her head bowed.
"Go inform Shinku of our intruders. I think the shinobi of this village will be enough to take care of these hooligans, I won't send any of you just yet. And has Shuiro returned from his little excursion yet?" Hinode said.
"No, my lord, he has not. I will inform Shinku right away." Taka said with her emotionless tone of voice. Getting into an upright stance, she turned and asked Inori, "What is their exact location?"
"I don't know their exaaaact location buuuuut..." Inori started, and focused on the signatures again, "They're in two squads... one is near the village's southern entrance... and the oooother is... underground!" she exclaimed as if she found the answer to a hard math problem, but in reality, she could have given the exact coordinates of each and everyone one of the 8 invaders. Without another word, Taka vanished into thin air. "Hmph! Not even a 'thank you', how rude!" Inori cried.
A smile started to spread on Hinode's lips. (Things might become interesting... I was starting to get a little bored.) he thought to himself. The moment he finished that thought, a crack of lightning sparked in one of the huge, lingering clouds. The flash illuminated the room for a short instant, revealing the other shadowy figures within...
Now sitting back in his (the Raikage's) chair, Hinode asked Inori for a status report. After a short moment of concentration, the cat-girl said, "The above ground team seems to have slipped right between the legs off all those idiots you sent to attack them.. but Shuiro found them and I think he captured one of their team members!" Inori exclaimed, getting a little excited after that last bit of information.
"Hmm... is he heading here?" Hinode asked.
"No. He seems to have come to a stop on the peak of a mountain not to far from the center of the village." Inori replied.
Hinode sighed and then said, "Knowing him, he probably wants to fight them on his own. I'll let him have it his way, they shouldn't be a problem for him, especially if it's only 3 on 1. Now, what about those rats in the sewers?" Hinode asked the girl sitting on the floor in the middle of the room.
"Mmm... judging from the motion of their chakras, I'd say that they captured the other idiots you sent." Inori said in an 'I told you so' type way.
Getting a little frustrated, Hinode stood up and muttered to himself, "If you want things done, you have to do them yourself..." He looked over to a female figure who was sitting in a chair reading a cook book. "Kaori, you've been awfully quiet. Are you up for a little errand?" The moment he finished his sentence, the girl shut her book instantly and looked right up at him with an intense gaze.
"Of course, Hinode-sama..." she said with her little, but fiery voice.
He smiled at her and said, "Perfect. I want you, Taka, Meat, and Fury to go and take care of our guests."
She got up from her seat and then said, "Aw no! You don't mean the one's in the sewers, do you!?" the girl cried.
Before Hinode could answer, Inori also complained, "Aw what, no fair! Why are you letting everyone go but me!"
Hinode sighed and then with a wave of his hand gave Kaori the signal to go. With a smile and wink at her master, the girl vanished with a puff of smoke.
"I already explained to you why, Inori... don't worry, sooner or later you'll get your turn as well." Hinode said to the cat girl. He then pressed on the comm device in his ear, and let Taka know what was going on. After doing so, he formed a seal with his hands, and 'activated' two of his clone soliders via telepathic control. The two giants both ran forward, and jumped right through 2 of the large windows, completely shattering the glass. They started falling through the air, and met up with Taka and Kaori, who were also falling through the air.
"So, you've finally returned, Shuiro." Hinode said, not even bothering to turn around to look at his loyal servant.
"Hi!" Inori exclaimed, obviously happy the rogue grass ninja was back.
"Hey, Inori. Sorry I was out a little late, but I wanted to play around with our visitors a bit." Shuiro said as he walked over to a chair and sat down as if he had returned from a long day at work. Looking around, he noticed that room was pretty empty compared to earlier. "Um... where's the party at?" Shuiro asked.
"I sent Kaori, Taka, Meat, and Fury to take care of the intruders that infiltrated the village through the sewers." Hinode said.
"Oh! So there's more of them? Well, guess that makes sense... we did take the hosts from 2 other villages apart from kumo... I guess you really want to get rid of these guys quickly if you're sending them, huh...?" Shuiro said with a smirk.
"I don't want to take any chances. What did you learn about the team you faught againt?" Hinode asked Shuiro, now turning to look at him.
"It's a team of 4 from Konoha, 3 guys and 1 girl. Their leader seems to possess the ability to use mokuton techniques, the girl is a Hyuuga, the dude with the shades has to be an Aburame, and I don't know what the last guy can do. I knocked him out at the start of the fight." Shuiro answered. "They're either going to be heading here, or going to help the other team out in the sewers, because I think they're starting to figure out what's going on." Shuiro added with his sly smirk.
Hinode sighed, and then simply said, "I see." He got up from the Raikage's big chair and said, "Inori, you're finally going to be getting the action you've been begging me for." he said with a smile.
"Yay! I don't have to sit here in this stupid room anymore!" the cat-girl exclaimed as she jumped up onto her feet and started clapping.
"Not exactly. I'm going to need some blood from both of you..." Hinode said with a grim tone.
"Hah... so you're going to use that technique, huh..." Shuiro muttered as he pulled out a kunai a inflicted a minor cut upon his own forearm.
"Aw what!? You tricked me! No! I'm not giving you one drop!" Inori cried, turning around and crossing her arms as she pouted. Shuiro smirked and with the flick of his wrist, sent his kunai flying aross the air. It cut the side of Inori's calf, and then stabbed into the floor. "Ouch! Why'd you do that, you big meanie!!!" Inori turned to Shuiro, screaming at him. He just shrugged his shoulders.
After having formed a single handseal, Hinode started sucking the air. A string of blood extended out from both wounds and was sucked into his mouth. When he got enough, he stopped the suction, and then started forming more handseals. "You sure you want to use this technique...? I mean, won't it age you like 10 years?" Shuiro said.
Hinode didn't answer, instead he said, "Forbidden Technique: Accelerated Cloning Skill..." The next second, he bent over and vomitted out a large amount of blood. As he did, he was visibly aging. Within seconds, he had aged 10 years. The crimson liquid splashed onto the floor, divided in two, and then formed into a clone of Shuiro, and a clone of Inori. Hinode wiped the blood from his mouth and then said, "The procedure is nearly complete. This should slow them down sufficiently enough to finish the process. Maybe even get rid of them completely. Now, the two of you, go." Hinode ordered, and they obeyed. The two fresh clones jumped out from the already broken window and started making their way to where Squad A was.
"You suck." Inori muttered under her breath as she sat back down and began concentrating again.
"Well, that was fun while it lasted..." Shuiro said to himself with a smile as he opened his eyes.

"Ha! I lasted longer than you!!!" Inori teased, but it was obvious by Shuiro's expression that he didn't care. Hinode's expression on the other hand showed a different emotion: Anger.

"The two of you failed? And you Shuiro, this is the second time you fail me now..." he said, turning to look at the rogue.

After shrugging his shoulders, Shuiro simply answered, "What can I say, those Konoha guys are no joke. But it's not like we completely wasted your technique... I mean, we left them in pretty bad shape, you know." Hinode sighed and then turned to Inori.

"What of the squad I sent to deal with the group at the wearhouse?" the silver haired man asked.

"Umm... Meat and Fury are dead, and it seems like our visitors escaped. From their direction, I'd say they are heading over to the team Shuiro and I left beat up. Taka and Kaori are tailing them, I think..." Inori said, as if she was just reading it off a paper.

"What!? Meat AND Fury!?" Hinode roared, inraged. His fists were clenched so tightly that had he not been wearing gloves, his nails might of dug into his palms and caused him to start bleeding. He took in a deep breath and calmed himself. "Those were two of my most valuable and powerful clones... I don't understand how they could have been defeated so easily. Nonetheless, they still will never make it to this tower. I have the whole village at my disposal, after all..." Hinode said to himself with a smile. He looked over his shoulder at one of the other figures in the room who was wearing a kumo headguard. "You there! Go and give Shinku the order to send all our remaining forces to the area where Shuiro and Inori's clones were sent." The shinobi nodded, but before he could leave, Inori cut in.

"Uh, Boss..." she said, and Hinode asked what the problem was now. "Not that big of a deal, but 4 new chakra signatures just entered the village, and these ones make our first batch of intruders look like earth worms. They're about to reach the southern gate." Hinode face palmed, and pulled down with his hand so his facial skin was being stretched.

Removing his hand so he could speak, he gave a new order to the waiting Kumo-nin, "Direct all our forces to the southern gate. Don't let them anywhere near central. As for the others, let them come. If they think they can just waltz into the wolf's den without getting bit, their in for a rude awakening." With that, the shinobi nodded again, and then vanished.

"So they finally called in reinforcements, huh?" Shuiro said, a little too amused with the whole situation for Hinode's liking.

"No... I don't think so..." he grimly replied as he looked out the large windows. The sun was begining to rise, turning the clouds in the distance blood-red.
"They're here!" Inori cried to inform everyone that Umi and Kaori had arrived. "Oh, and this just in - those 4 other intruders, the strong ones - they're on their way here now." she added as if it wasn't really that significant. Hinode sighed and then turned to look at everyone.
"At least those two made it back, it shouldn't be too much of a problem to deal with this now." As he finished that sentence, Umi and Kaori walked into the room. "Welcome back, Taka, Kaori. I'm glad to see you both made it back in one piece, let alone --" Hinode was cut off by Kaori as she yelled really fast, "Don't be mad!" and formed a handseal.
Shuiro attacked
Umi intercepted
She was actually a Boiling Water Clone
Unaware, Shuiro attacked the clone, destroyed it, and was covered in boiling water as a result
Kaori used her summoning technique and brought forth the allied forces.
The allied forces bursted out and the first to make a move was Temari with her fan already out and open. With a single swing wind started spinning around the room like a mini tornado, with the allies in the middle. Once the jutsu picked up speed it would pick all the enemies up off of their feet into the jutsu, except for Hinode. With a roar Temari threw all the enemies out of the room through windows into the village as you could hear the glass shattering over the violent winds. The wind calmed down and the necessary shinobi jumped out of the window. While hanging in the air, before the enemies landed onto a roof top of the ground, Temari released a gust of wind on all the enemies blowing them even further away from the Raikage's tower and each other. "Good job Temari" Yamato said as he and Hinata would be heading in the dirrection of Inori. Kankuro and Rock Lee would be heading towards Shurio and Temari and Chiyo would be fighting the Raikage because he seemed to have multiple body guards.
Yamato landed onto a roof top of a building as he looked at Inori getting ready to fight. Kankuro landed onto the ground as he brought out all three of his puppets from a scroll getting ready to take Shuiro out. "How does this guy fight?" Kankuro asked Lee knowing he already faught him. Temari landing on the ground most likely beside Chiyo had her fan open and held behind her as she scanned the enemy. "This isin't going to be easy" Temari whispered to Chiyo. Bending her knees she got ready to fight the five Kumo nins.
Meanwhile Sakura was inside the Raikage's building with Shino and Kaori as well as Hinode. Sakura got a look at the leader of the enemies and got a look of rage. He was the one behind the capture of Naruto. But her assignment was not to fight him, she had to go else where. Knowing Umi would be the one fighting Hinode Sakura turned to the Chef and Aburame. "Lead the way" she said to Kaori because she probably knew the way to where the other Aburame was.
Last edited by Darth Anarchy on Fri Jan 14, 2011 2:50 pm; edited 1 time in total
"The intruders finally made it" the Kage said as they spotted both Temari and Chiyo aproch them.
"Only two of them, what fools" Samui, the blond one said as she smiled with a little laugh.
C noticed Temari was the one with the fan and was the one who blew everyone out of the building. Looking over to Ei he'd inform him. "The one with the fan is the one who uses the wind techniques. With that she could take out your lightning armour."
Looking over to the two kunoichi, Omoi would state "and they're both from Suna, the hidden sand village. The other one may know some wind teachnigues as well" sucking on his lollypop.
"Samui, take your team and take care of the wind user, i'll fight the old hag." "Yes sir" said Samui. Before the Kumo nins ingadged in battle the Raikage yelled out " What buisness does Suna and Konoha have in my village?! I will personally take all of you out myself!" And with that team Samui took hold of their blades getting ready to strike.


Landing onto the ground along side one of her fellow Suno nin, Chiyo would say "It apears he has three guards not just one. You better be ready Temari." While the village elder was talking she pulled out a scroll from the inside of her sleeve. "Lets test out these bad boys." Unravleing the scroll, there were two kanji symboles on them. Chakra would be released from the symboles as two puffs of smoke formed infront of Chiyo. A gust of wind picked up and slowly brushed the smoke away. Chiyo's hair and robes would sway side to side in an epic like fassion as Meat and Furry stood infront of her, their dead bodies. She had made little ajustement to them while in the coocking pot, barely noticable ones. Chiyo would yell after the Raikage did so "Lets get the party started kido!" Talking directly to the Raikage.
Similar topics
---
Permissions in this forum:
You
cannot
reply to topics in this forum